So after reading a bunch of journal posts and searching the net, I noticed that it is sorely lacking a good and friendly tutorial on Hat Making. This is only basic.. There are so many kinds of hats out there, but this is at least a start.
Also, it's pretty wordy. Let me know if you need more pictures.
Basic Hat Making
*Just a disclaimer: This may not be the absolute time honored technical way to make a hat, but it has worked for me professionally for 10 years.
A diagram of parts of the hat:

I will be using these terms throughout the tutorial so refer back to this diagram. This is the very basic elements of the hat. Most all types of hats have them in some form or another.
Supplies:

1. Find yourself a good pattern, or be adventurous and make one. I find that in making a hat pattern, the best way is to construct the pattern out of poster board. You can tape the poster board pieces together and see how your hat will fit and look, without using your good supplies. There are lots of hat patterns out there. I'm not going to support one or another. It's really in the making of the hat. If you are making your own pattern and it needs to fit your head instead of sit on top of it, make sure you add an extra inch to the head hole opening. It will make sense in the end.
2. Once you have your pattern, it's time to pick your supplies. I've used all sorts of base materials, but the cheapest and sturdiest that I really like is plastic canvas. You can find it at just about any craft store (and if the walmart near you still has a fabric department, they have it). Traditionally, structured hat bases were made of buckram, pulled wool felt, or a shaped skin (like a beaver skin top hat). Some, like the top hat would include wire to help it hold the shape.
3. If you are making a mini top hat, then you will be fine with just the plastic canvas base. If you are planning on making something bigger you are going to need wire. It helps to hold the shape of the hat and give more support. You can also use it to shape your brim. I recommend using 16 or 18 gauge wire. Don't worry. I'll show you where it's going.
4. You will need some flannel fabric to cover your canvas base. You will need enough to cover 2 sides of your brim, the outside of your vamp and the outside of your tip. I tend to use a light color that won't show through your fashion fabric. You are using the flannel to cover and smooth the lines of your hat.
5. You will need lining fabric to cover the inside of your vamp and tip.
6. You will need the actual fabric that you want your hat made out of. That's called your fashion fabric. You will need enough to cover two sides of your brim, the outside of your vamp and the outside of your tip.
7. You may also want some tacky glue and some bias tape. I haven't always used it. I don't think you always need to. It's just a little bit different of a method. It's a little easier, but it takes a bit more time, because you need to wait for the glue to dry. I'm impatient.
Now you have the bulk of your supplies. You also need some thread that matches your fashion fabric, a sewing needle, pins, scissors, tape, sharpie, and wire cutters.
Pattern Pieces:
Draw out your pattern pieces on the plastic canvas. I like using sharpies. It doesn't rub off the plastic as much.
You want to mark where your center front and center backs are on the tip, vamp and brim of every piece. This will help you line everything up latter on.
Go ahead and cut out your tip.
Your vamp will need some seam allowance added to the side pieces of the vamp. Add ½" on each side of the vamp. When you stitch the vamp together to make a round tube, you will have overlap to sew with.

DON'T cut out your brim yet. If it's a bought pattern, it will have you cut the head hole with extra inside it. There's a reason. To connect the brim to the vamp, it's best to have structure. So that extra inside the head hole is going to get clipped and eventually sew into the vamp of your hat.
If you are super adventurous and have made your pattern, then you must add this extra bit. ½" to ¾" is perfectly fine to add.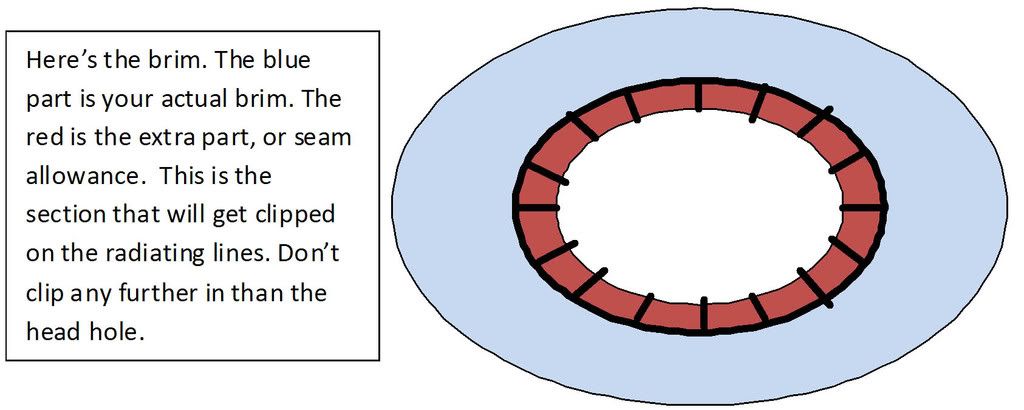 Now that we have that covered, cut out your brim! But don't clip that inside bit yet.
Now, let's deal with the fabric. You should have three different fabrics. Flannel, lining and fashion fabric. If your pattern is a bought pattern, it may already include seam allowance. Please be sure to read your instructions if you are unsure. If you do not have seam allowance, then you need to add it to your pattern. You can use anywhere from ½" to ¾". The purple on the diagram below indicates where seam allowance should go.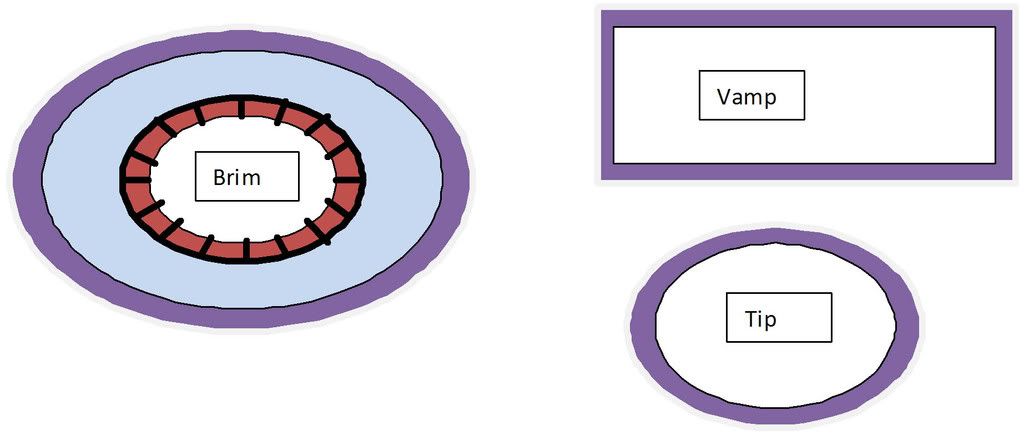 Okay, now it's time to cut out your fabric. Good luck and may the force be with you. I'm not going to go into pattern matching or matching stripes or anything like that. That's another tutorial in itself. I'll just put that thought in your brain.
I suggest putting all your fabric pieces in a Ziploc bag. I have a tendency to lose mine.
Construction

Alrighty, pick up your plastic canvas pieces again. We are now going to add wire to them. You can skip this step, if you are making a mini top hat. That's up to you. I just don't think they need the wire support.
You are going to whip stitch wire around the outside of your brim and your tip. Overlap the wire on the ends by ¾" and cover it well with thread so it doesn't go anywhere. On the bottom edge of the vamp also whip stitch on some wire. Don't worry about overlapping the wire. That will happen when you stitch the vamp together.

***Okay, here's where you can run into problems. Sometimes, we just don't cut straight, or something startles us like the dog dragging your good scissors away. I'm going to recommend that you do a trial run of putting the canvas together. Tape the vamp together. Make sure that the tip and brim will fit where they are supposed to go. If not, you can always alter the vamp just a bit, making it bigger or smaller where you need it. *****
Take the vamp and stitch it together. You will make a round tube. Line up the original side lines of the vamp. Your seam allowance will fall to either side. Stitch that baby down! And then whip the wire together
Now take your Tip and whip that in the top side of the Vamp tube. Matching up your center front and back marks. The wire you put on the tip should go in the "corner" you are making with the tip and vamp. Sometimes it helps to tape the sides and center front and back. This makes sure you get your vamp in the right place.
Bravo. Have a spot of tea. You've gotten very far! It's starting to look like a hat. If you have some mangled modern art piece, I don't think I can help you.

Padding the Hat (or Mulling)

Now here is where things can be different. I've done it several ways. On relies on more sewing. One relies on the patience of waiting for glue to dry. I will explain both ways, and you can decide what you like better.
Method 1: Sewing
Now you are going to take your Flannel and we are going to pad the brim. You should have two pieces of flannel for the brim. Take one piece and lay it against the brim. Whip around the edges in a wide stitch. You are going to pull some of that seam allowance around the edge of the brim while you are whipping it down. After doing the first piece, trim any excess flannel off on the underside. You can trim right up to your stitches.
Take the second flannel brim piece and place it on the other side. You are going to do the same thing as stated above.
Take the flannel tip piece. Center it on your canvas tip. Whip it around the edge going through the "corner". Trim off any excess.
Take the flannel vamp piece and whip stitch around the top. You are going to have to deal with center back seam allowance. Don't worry about stitching that down. I just overlap it a bit and cut off the extra. You are also going to whip stitch around the bottom of the vamp. Cut off any extra seam allowance. You can cut extremely close to your stitches.

Method 2: An exercise in patience.. or watching glue dry
.
Take your canvas brim and run a bead of glue around the outside of the brim. Place one of your flannel brim pieces on the canvas and smoosh together with the glue. Wait for it to dry. Trim off the edge of flannel. Do the same to the other side of the brim. Now, you are going to use your bias tape. You want to run glue around the edges of the brim, side, top and bottom. As you are applying the bias tape, stretch it out, so you have a nice smooth line.
Take your canvas form of your tip and vamp and place a line of glue around the edge of the tip. Glue your flannel tip piece down. When the glue dries, trim of the excess. Then run glue around the top and bottom edges of your vamp and glue your flannel vamp down. Don't worry about seam allowance in the center back of your flannel vamp. Just overlap a bit and cut off the excess. Once all is dry, run a bead of glue around the bottom edge of your vamp and stretch bias tape around it. Do the same thing at the tip/vamp junction.
Now, have another spot of tea. Wait for all the glue to dry. You know, tea really does make the world go round.

Covering the hat in Fashion Fabric
This is where your pins will come in handy.
I do my hats by hand. Some folks use their sewing machine for parts. I will explain both methods.
Method 1: By machine
Take your vamp fashion fabric piece and stitch the back seam up. You may need to adjust it so it fits well over the covered canvas pieces. To double check it. Turn your fashion fabric inside out and wrap it around the hat form. Pin up the back where the seam should be. Slide off the fashion fabric. Now you can draw a line where the pins are and stitch up that line. If you can, press that seam open so it lays flat.
Now, take your fashion fabric tip piece and line up center front with center back of the vamp piece. Right sides together. Pin and stitch together. You will need to clip the seam allowance of the tip and vamp piece. I would also cut down the seam allowance so it's about ¼". We just don't' want to see any bulk from the seam allowance.
Turn the fashion fabric tip and vamp piece right side out and slide it over the covered hat piece. Ease everything down and around. Smooth it all into place. You should have seam allowance at the bottom of the vamp piece. Turn that under and to the inside of the hat. You want to tack that down by hand stitching.
Next is the brim piece. This can be a bit tricky on getting just the right fit. Place your covered canvas brim on the wrong side of one of your fashion fabric pieces. Trace around it and this will be your stitch line. Stitch the fashion fabric brims together. Right sides together. Then cut down the seam allowance to ¼" and clip all the way around. Turn the pieces right sides out. Now is another tricky part, squeezing the canvas brim into the head hole of your fashion fabric brim pieces. Patience is all I can tell you. An smooth It all down.
Method 2: Hand sewing and Patience
Take your tip piece and lay it against your covered canvas tip/vamp. You are going to pull the seam allowance down over the sides and pin it in place. Then just below the junction of the vamp/ tip, you are going to sew down the fashion fabric tip. You need to sew all the way through the fashion fabric, flannel and canvas. Trim down the fabric and clip.
Okay, bare with me on this one. It's tough to explain. Set your hat form on the table next to you. You have the fashion tip stitched on. Now, grab your fashion fabric vamp piece. Instead of laying the vamp piece on the hat form, you are going to turn it upside down, so you are holding the bottom at the top, with the wrong side of the fabric facing you. Line up the center fronts on the tip and what is currently the vamp and wrap the fashion fabric around the top of the hat form. The fabric should be sticking off the top of the hat form. You want your seam allowance of the vamp piece to be below the tip/vamp junction. You should have right sides of your fashion fabric facing each other.
NOW PIN!!
And stitch just below the tip/vamp junction… through everything. Trim your seam allowance and clip.
When you are done stitching, you should be able to pull down the fashion fabric vamp piece and it will look like the top part of your hat. You still need to deal with the back seam of the vamp fabric. Lay one side flat and fold the other side down and just gently slip stitch it down.
Onto the brim. Lay your one of your fashion fabric brims down on the canvas covered one. Pull the outside edge of seam allowance over the edge. PIN like the dickens! I run a large basting stitch around that edge so I can take out pins and not get stabbed too much.
Take your other piece and lay it on the other side. No, the one without the other brim piece on it. Okay, take and fold your seam allowance under the edge and pin. You go around the entire outside of the brim this way. Once you pin it all, go back through and slip stitch that piece into place.
Okay… I need a nap now. I'm so used to doing this and not thinking about it. Trust me. You are almost there!!
Putting it all together
So now, you have a covered brim and a covered tip/vamp piece. Congrats! This takes lots of effort and patience. Now you are ready to put it together.
On your brim piece, I had you add the extra to the head hole. Now's the time to use it. Make sure you have that cut out and clipped. Including the fabric layers. This is going to fold up into your vamp/tip piece. Fold up those extra brim pieces and slide them inside the bottom of your vamp. Pin and run a stitch through everything. This is why you see nice ribbons and things covering the outside of hats. It covers over those stitches. This is why I also asked you to add an inch to your head measurement in the beginning.
You now have a hat!! Well almost, just need to add the lining and decorate.
Take the lining and stitch the vamp piece into a tube. Press the seam flat. Now pin the tip to the vamp and stitch. Trim and clip the seam. Now you are going to pop that inside your hat. Make sure the seams are facing the canvas. You are going to take the bottom of the lining vamp piece and fold that under and pin to the brim piece. Slip stitch your lining in.
TADA!!! You have a hat! Now time to decorate! (but that's another tutorial)

Places and Suggestions for Patterns and Materials

Books:

From the Neck Up: An Illustrated Guide to Hat making
by Denise Dreher
This is a great book for making all kinds of hats.
Patterns:

Period Hats by Lynn McMasters
She has some wonderful hat patterns that span so many different centuries.
Ageless Patterns
Not only do they have great clothing patterns, but it looks like they have several books out with illustrations on hat frames.
Also, don't forget about Simplicity, McCalls, Butterick and Vogue patterns. They have some great stuff too.

Supplies:

Grannd Companies
They carry many things for millinery. This link will take you specifically to the millinery wire.
Judith M – Millinery Supplies
This is another good company that carries lots of millinery supplies.
**If you are looking for Millinery wire, try floral wire. The thick stuff. It tends to be covered and I've been told it will come in rolls. If you are using the glueing method of padding your hat, then I've also been guilty of just plain wire.
I'm certain there is more out there. This is just a few things to get you started. Good luck!
Current Mood: accomplished
Current Music: Puggies snoring and Abney Park